What are the New SAP Solution Manager Tcodes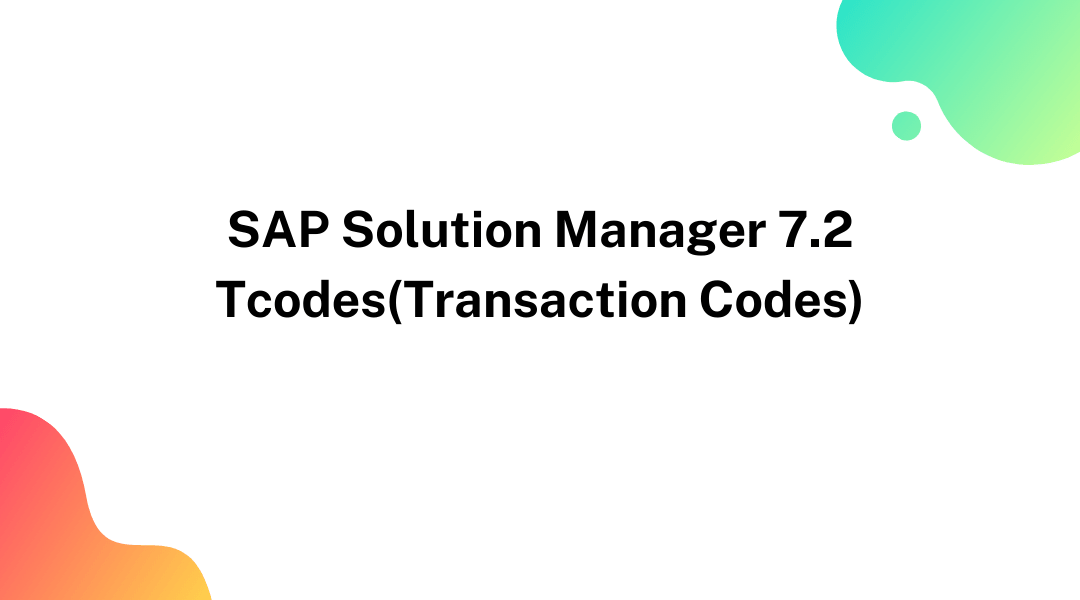 SAP introduced SAP Fiori Launchpad in SAP Solution Manager-7.2 which is a browser-based application single point of access to applications and Transactions directly instead of using the Tcodes.
But if you want to Navigate to a specific transaction code, Below is the updated Tcode(Transaction Codes) which are introduced in SolMan (SAP Solution Manager 7.2).
---
SAP Solution Manager Functional Tcodes(Transaction Codes)
CM_ADM_COCKPIT : Change Control Mgmt – Admin Cockpit
Usage:
1. Task list
2. Change cycles 
3. Overview
4. Task list
5. Change cycles
6. Overview
7. Landscape Overview
8. Objective Administration
9. Transport Analysis
10. Schedule import jobs Solution Manger ChaRM Search
CM_ADM_PROC_VIS : Change Request Management Process Visualizer
Usage:
1. This is one of the best Tcode to visualize the workflow of a ChaRM status changes, available actions, and background actions.
2. PPF actions, SOCM actions, and SOCM Consistency checks related to a ChaRM.
3. Identify background ChaRM actions.
SOMO_ADM: Object Administration
Usage
1. Business Process Monitoring
2. Business Process  Analytics
SOLADM: Solution Administration
SOLDOC: Solution Documentation
SPIO: Process Monitoring Overview
SPIS: Start User Interface for Monitoring
SPI_ALE01: ALE monitoring
SPRO: Customizing
SPRO_DB: Implementation Guide for DB Providers
SOLMAN_INCIDENT_ISV: Updating incidents from SAP OSS -ISV
SOLMAN_INCIDENT_UPD: Updating incidents from SAP OSS
SOLMAN_PI_DI: Detailed Info. for PI Monitoring
SOLMAN_SETUP: SAP Solution Manager Configurations(Master Tcode for All Basic Setup in SolMan
SOLMAN_WORKCENTER or SM_WORKCENTER: Work Centers
SPAK_ERROR_ANALYSIS: Detailed Package Error Analysis
(Provides a detailed analysis of package errors. You can perform the package check both for a single repository object as well as for a specified set of objects)
SRDEBUG: Activate Remote Debugging
RZ20: CCMS Monitoring
RZ21: Monitoring Properties
CRM_DNO_MONITOR: Transaction Monitor
BP_GEN: Generate Business Partners
BP: Maintain Business Partner
BP0: Business Partner, Initial Screen
BP_LOCA: Example: Business Partner Locato
BP_USER_GEN: Generate Business Partners and Users
BPCA_3PTM_TT: Start BPCA Test Tool for 3rd Party
BRF: Business Rule Framework – Workbench
BRF+: BRFplus Workbench
CRM_UI: Start CRM WebClient
CRM_UI_CONFIG_BTC: Create UI config for EEW component
CRM_UI_DBG: Start CRM WebClient (Debug mode)
CSI_INSTANCE_LOG:
CSI: Instance Log Display
SM30: Call View Maintenance
SM34: Viewcluster maintenance call
SM59_TEST:Test destination maintenance
SM_URLFWK :Solution Manager URL Framework
SPPFDETCRM:PPF: Action Profile with Conditions(it help to Display or change the individual actions )
SPPFDET : PPF: Condition definition
CRMC_ACTION_DEF: The action profile displays the interface between the application and the Post Processing Framework (PPF). It gives a view of the application object type that only shows the settings that are of interest to the PPF. Using the settings provided in the action profile, the conditions are evaluated, which leads to the scheduling of actions.
SPPFCONSISTENCY : PPF: Consistency in Customizing
SPPFCADM : PPF: Administration
SPPFP : Process Actions
MAINT_ROLES : Maintain SMSY role type
MAI_TOOLS : Monitoring and Alerting Tools
/UI2/FLP – SAP Fiori Launchpad.
ESH_COCKPIT -Connector Administration Cockpit(Monitor and administrate search object connectors.)
SOLMAN_PLUGINLIST: Plug-In List SOLMAN
LMDB: Landscape Management
Usage:
1. Create Systems
2. Create LCG
3. Create Hosts
4. Transport Domains
5. Create RFC
6. Other related Tcods for LMDB
7. LMDBT_XML_DISPLAY: Display XML
8. LMDB_ADM : LMDB Display
9. LMDBT_XML_DOWNLOAD: Download test XML resources
LMDBT_XML_UPLOAD: Upload XML
LMDBT_ZIP_DISPLAY: Display LMDB test content (ZIP file)
SOLMANTRANSFER: Configuration of Data Sent to SAP
SOLMAN_CONNECT: Service Connections
SOLMAN_EWA_ADMIN: This shows the EWA UI
SOLMAN_SAPROUTER: Maintenance of SAP router update data
SOLMAN_SETUP_ADMIN: SAP Solution Manager Setup Admin
Usage:
1. Generic Storage Administration
2. SolMan Setup Migration
3. Log Archiving
4. Security
5. Configuration scenarios.
6. Locked Guided Procedures
SRT_UTIL: Tracing Utilities for Web Service
SDCCN – Service Data Control Center
SDCC – Service Data Control Cente
AISUSER – SAP Support Portal User Maintenance
SNAPSHOTS: Snapshot Administration
TREXADMIN: TREX Administration Tool
TPMO: Translation Performance Monitor
SMSY – solution manager System Landscape
SMSY_SETUP – System Landscape Maintain
SPROJECT_ADMIN: Project Management
SOLAR_PROJECT_ADMIN – Project Administration
SPRO_ADMIN: Customizing – Project Management
SOLMAN_DIRECTORY: Solution Manager Directory
SOLMAN_DOWNTIME_MGMT: Start Application Downtime Manager
SOLMAN_PROJECT: Solution Manager Project Overview
SOLUTION_MANAGER: Solution Manager
SOLUTION_TRANSFER: Solution Manager: Solution Transfer
SOLUTION_MANAGER_BSP: SAP Solution Manager (Web)
SOLAR01 – SOlMan Blueprint
SOLAR02 – SolMan Configuration
SOLAR_EVAL: Project Analysis
STWB_WORK – Tester worklist